Details
Window frames move away from the siding or doors shift against the brick. They move when the temperature changes, the wind blows, or the ground swells. Big Stretch provides the adhesion and flexibility to handle the movement.
Big Stretch® is a 100% acrylic latex, high-performance caulk with powerful adhesion and elasticity. Big Stretch will stretch and compress to absorb just about any movement a home can dish out. It spans gaps up to 2" wide and stretches up to 500% of the original joint size without cracking.
Sashco Big Stretch Caulk Features & Benefits
•Super elastic—moves instead of tears.
•For interior and exterior use.
•Highly durable.
•Low VOC.
•Superb paintability.
•Freeze-thaw stable.
•Limited Lifetime Warranty.
•Stop-flow plunger.
•Paintable with exterior latex paints/stains after 4 hours.
•Paintable with interior latex paints/stains after 24-48 hours.
•Soap and water cleanup.
Sashco Big Stretch Caulk Usage
• Interior and exterior applications, including:
| | | | |
| --- | --- | --- | --- |
| • Windows | • Doors | • Siding | • Vents |
| • Soffits | • Eaves | • Baseboards | • Molding |
• Adheres to most building materials, including:


| | | | |
| --- | --- | --- | --- |
| • Aluminum | • Brass | • Nylon | • Steel |
| • Wood | • PVC | • Tile | • Asphalt |
Sashco Big Stretch Caulk Application Information
•If dirt or oils are present, wash with any household cleaner, rinse to remove and allow to thoroughly dry.
• Remove any old caulk, especially silicone. Use a silicone remover such as McKanica® Silicone Caulk Remover.
•Joint design: Insert backer rod into joints deeper than 1/2" to provide for proper sealant depth and a stronger, longer lasting seal.
• Choose Bead Size – Cut the spout at a 45° angle to your desired bead size and puncture the inner seal.
• Gun Big Stretch into the joint and release the trigger at the end of each bead.
• For a smoother bead, use a damp foam or paint brush with a light, skimming touch.
• Clean up tools and hands with warm water and soap.
• Leftover Big Stretch can be stored if the nozzle is tightly wrapped with plastic wrap and a rubber band.
Sashco Big Stretch Caulk Resources
Sashco Big Stretch Caulk Technical Data Sheet
Sashco Big Stretch Caulk Benefits
Sashco Big Stretch Caulk MSDS Sheet

Sashco Big Stretch Color Chart: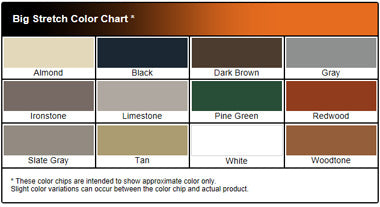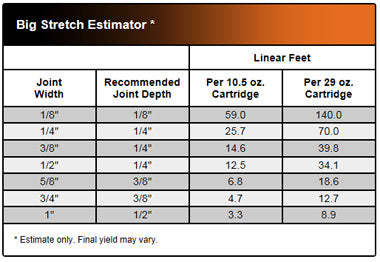 Product Questions
No questions yet. Be the first to ask the question!
You may also be interested in the following product(s)
| | | | |
| --- | --- | --- | --- |
| | | | |